Understanding Energy Efficiency
It's an excruciatingly hot summer day and no matter what you do, your home will not stay cool. You have fans circulating, blinds drawn and any unnecessary lights turned off. Still, the thermostat reads a toasty 10 degrees higher than the temperature you set. Sound familiar?
You have likely heard the term "energy efficiency" before, but you might not be aware of how much having non-energy efficient windows can cost you throughout the year.
The Benefits of Energy Efficient Products
In short, energy efficiency allows you to decrease the amount of energy you use — without sacrificing an amenity.
In warm months, energy efficient products trap undesirable warm air outside. Alternatively, in cold months they wrap your home in a blanket of insulation, keeping your heat inside and protecting your interior from cold drafts. Energy efficient products offer a myriad of benefits, both economically and environmentally.
Energy efficient products save homeowners, businesses and large industries a significant amount of money every year.
When heating and cooling systems, appliances and lighting products can reduce the amount of energy they use, fewer greenhouse gases seep into the environment.
Some energy efficient products, such as windows and doors keep a home or commercial building much more comfortable during extreme weather conditions.
Here at Window World, we believe our customers should never have to sacrifice quality, comfortability or affordability. With our energy efficient products, you can have it all.
  
---
Energy Efficient Windows
Energy efficient windows from Window World are a wonderful investment for any home. Drawing similarities to a two-way mirror, energy efficient windows allow visible light to pass through to keep your home well-lit, while reflecting long-wave infrared radiation to keep interior temperatures constant. A few added benefits, include:
48% reduction in solar heat transfer during the summer months
104% increase in R-value of the glass in winter months
Protect your carpet, furniture and draperies from fading
The Intercept™ Spacer System will extend the life of your windows
Window World's new replacement windows provide substantial energy efficiency and savings for your home. We have saved money and energy for homeowners throughout the nation.
ENERGY STAR® Qualified SolarZone™ Insulated Glass Package
What Technologies Make the SolarZone Insulated Glass Packages Effective?
Since 80% of a window is glass, substantial heating and cooling savings come from improved glass performance.
Our combination of UV-filtering Low-E Glass (LG), insulating argon gas and the Intercept™ Warm Edge Spacer System creates significant energy efficiency.
Together they can cut the damaging effects of the sun, which can lead to faded carpets, curtains and furniture.
In winter, a warmer glass temperature is maintained, increasing the R-value by an additional 104%.
In summer, a 48% reduction in solar heat gain helps cut air conditioning costs.
The result: your monthly utility bills will reflect savings year round – and that should help make you even more comfortable.
How does Low-E Glass (LG) work?
Low-E glass filters long-wave radiation from the sun. This reduces solar heat gain from the sun in the summer… keeping your home cooler.
Low-E glass takes on a new duty in winter months. It lets warm solar rays into your home… while blocking the heat in your home from getting out.
How does the Intercept™ Spacer System work?
Its one-piece metal alloy, U-channel design creates an effective thermal barrier to help reduce conducted heat loss.
Its sealed one-piece design makes it stronger and better at retaining insulating gas than many conventional designs.
How do Intercept™ Spacers add to room comfort?
They keep the edges of the window glass warmer, so your home feels more comfortable in winter.
The temperature difference between the edge of an insulating glass unit with an ordinary spacer, and one with an Intercept™ spacer system can be dramatic.
How do Intercept™ Spacers Help Windows to Last Longer?
LG units expand and contract with temperature changes.
In conventional insulating glass units, the sealant holding the unit together takes the stress of this flexing and can cause seal failure and insulating gas loss.
In an Intercept™ LG. unit, the spacer flexes instead of the sealant, so it resists spacer movement and premature sealant failure.
Thermography dramatizes the difference.
The window on the left is a clear insulated glass unit. The heat transmittance, indicated by the green, yellow and orange colors from the heat scale, is far more apparent than that of the window containing the Solarban® 60 Low-E insulated glass unit.

---
Energy Efficient Doors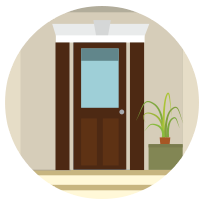 Window World carries a number of replacement doors that offer excellent energy efficiency. From choosing low-E glass for a mostly glass patio door, to choosing an energy efficient Therma-Tru® entry door, your energy efficient options are nearly endless. A few added benefits, include:
Protection against unwanted temperature changes
A properly installed and sealed entry door
A durable and sturdy door that keeps your home secure
---
Energy Efficient Vinyl Siding
We find that many customers have never even considered vinyl siding as an energy efficient option. However, the Prodigy® Insulated Wall System from Window World takes vinyl siding to a whole new level with up to a 1.5 inch-thick foam insulation. A few added benefits, include:
Protection against unwanted temperature changes, no matter what season
Durable material that protects your home from hurricane-force winds, excessive moisture and hail
Improved curb appeal and comfortability
---
Make Your Home Energy Efficient
When it comes to making your home energy efficient, there really is no risk. The payoff is not only significant, but also tangible. You will reap the benefits in comfortability and cost, as energy efficient products are an investment that pay for themselves time and time again.
If you're ready to see the difference and enjoy being comfortable in your home again, contact the professionals at Window World today. We are happy to provide you with a free in-home estimate and answer any questions you may have about energy efficiency!